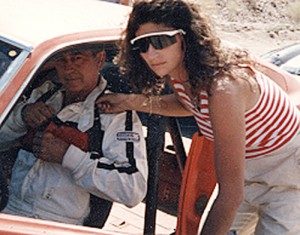 I love words. I'm a fly-chicken. If you want to kill me put me on a plane. I use too much punctuation. I invent things. I procrastinate.
Food
We had good food. Always. And dessert. And a fire. Big family holidays at Aunt Nina's. My beautiful mom and aunt make the best cheesecake anywhere. I think the recipe came from a customer of Uncle Louie's.

Tomboy
I'm a little bit tomboy. I'm a gear-head. Dad raced for Ford, before going it alone. He was French, Dutch, Cherokee Indian – Mom is Italian. Both of her parents coming from Sicily as teens. They married after grandpa delayed the wedding to make wine. Some things are more important than love (see I really am a boy).
HotDiggityBlog is the virtual brain dump of Joanne Miller. Copyright 2010. And now 2015. Gosh, since 2008. Holy cattle.